Paraspinal infrared imaging is an extremely sensitive and accepted method of analysis for the presence of abnormal autonomic neurophysiology. The data presented in the thermal scan is compared to literature based normative values to determine the extent of neuropathophysiology. Any paraspinal thermal asymmetry of 0.5 oc or above is indicative of abnormal nervous system function. The higher the asymmetry, the greater the extent of neural dysfunction. In accordance with accepted thermographic protocol, a high resolution paraspinal scan was performed on this patient in the Cervical region of the spine. Approximately 166 infrared samples were taken for analysis. The data was digitally analyzed and found to contain 3 areas of thermal asymmetry when compared to established normal values.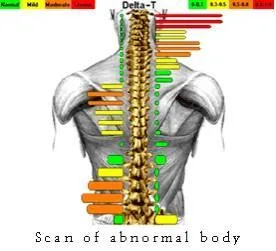 This examination is mildly indicative of autonomic neuropathophysiology.
Hobbins, W. Thermography and Pain. Biomedical Thermography, Alan R. Liss, Inc., New York. 1982:361-375.

Uematsu, S. Thermographic aging of Cutaneous Sensory Segment in Patients with Peripheral Nerve Injury - Skin Temperature Stability Between Side of the Body. J Neurosurg
Hubbard, J., Hoyt, C. Pain EUaluation in 805 Studies by Infrared Imaging. Thermology 1986;1:161-166.
Joint Council of State Neurol gical Societies of the American Association of Neurological Surgeons and the Congress of
Feldman, F., Nickoloff, E. No al Thermographic Standards in the Cervical Spine and Upper Extremities. Skeletal Radiol
Uematsu, S.. Edwin, D., et al. Quantification of Thermal Asymmetry. Part f: Normal Values and Reproducibility. J Neurosurg
Uematsu, S. Symmetery of S in Temperature Comparing One Side of the Body to the Other. Thermology 1985;1:4-7.
Uematsu, S. , Edwin, D., et al. Quantification of Thermal Asymmetry. Part 2: Application in Low-Back Pain and Sciatica. J Neurosurg 1988;69:556-561.
Thermography Protocols - International Thermographic Society 1997.
Thermography Protocols - International Academy of Clinical Thermology 2001.